Just as the name suggests, Kill Time of Cavicide1 is 1 Minute!
CaviCide1 and CaviWipes1 are the ONLY low-alcohol surface disinfectants on the market with a 1 minute contact time on ALL product labeled organisms, including TB. (Metrex)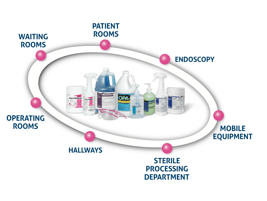 CaviCide1 fast kill time results in decreased risk of cross contamination. You can use on any hard, non-porous surface in your clinic.
1-minute kill time for:
Mycobacterium tuberculosis var: bovis (BCG) (TB)
Staphylococcus aureus
Pseudomonas aeruginosa
Salmonella enterica
Trichophyton mentagrophytes
Candida albicans
Multi-Drug Resistant Acinetobacter baumannii
Klebsiella pneumoniae
Bordetella pertussis
ESBL

Escherichia coli
Methicillin Resistant Staphylococcus aureus (MRSA)
Methicillin Resistant Staphylococcus epidermidis (MRSE)
Vancomycin Resistant Enterococcus faecalis (VRE)
Vancomycin Intermediate Staphylococcus aureus (VISA)
Hepatitis B Virus (HBV)
Hepatitis C Virus (HCV)
Human Immunodeficiency Virus (HIV-1)
Herpes Simplex Virus Type 1
Herpes Simplex Virus Type 2
Coronavirus
Norovirus
Influenza A, H3N2 Virus
*In the case of contamination with blood/other bodily fluids or when gross visible debris is present, a thorough cleaning of surfaces and objects must occur prior to disinfection. In order for disinfection to occur properly, the disinfectant must be able to come in direct contact with the intended surface.