Award Winning Dermal Filler Cannulas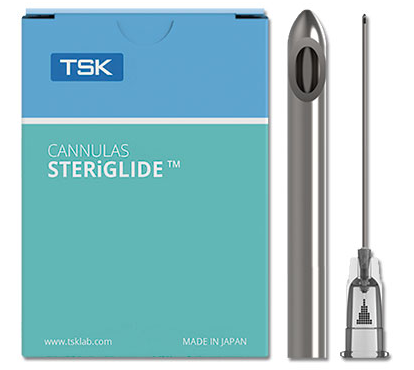 Dermal fillers are cosmetic treatments given through injections, usually in a doctor's office. They are minimally invasive, which do not involve surgery (Berry, 2018 ). These dermal fillers contain hyaluronic acid and similar substances to fill or plump areas that have lost volume and smoothness due to aging. This thinning is common in the cheeks, lips, and around the mouth.
The length and flexibility of the Steriglide allows practitioners to cover more surface area with one entry point. Aesthetic products like dermal fillers have a high viscosity and contain small particles that make injections more difficult. Regular needles can easily dislodge from the syringe or get obstructed.
The Steriglide cannula provides many benefits:
50% better gliding

Reduced risk of bruising

Easier cannula introduction

Reduced patient discomfort
Check out our website now to see which cannula is best suited for your needs!
Berry, J. (2018 , January 6 ). What is the difference between Botox and dermal fillers? Retrieved from Medical News Today: https://www.medicalnewstoday.com/articles/320510.php
B.V., T. L. (2019, November 21). Dermal Filler Cannula. Retrieved from TSK: https://shop.tsklab.com/product/steriglide-cannula/