The Oscar 2 Ambulatory Blood Pressure Monitor from SunTech Medical is the gold standard in 24-hour ambulatory blood pressure monitoring (ABPM). This is the BP monitor that will give you comfort and reliability when it counts.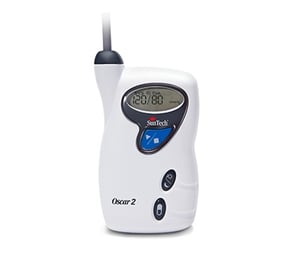 The Oscar 2 System Includes..
Oscar 2 Monitor
AccuWin Pro

™ 4 (AWP4) software (Download)

2 Orbit

™ ABPM cuffs (Adult and Adult Plus) Carrying pouch & patient belt

USB interface cable
User Guide
Standard 2 year warranty
Some features that the Oscar 2 delivers are:
SunTech Motion Tolerance:

Save time and money with fewer failed readings and less repeated studies from the company that made automated BP during emergency transport and treadmill testing possible

Clinical Validations:

Independently tested to meet the accuracy and performance requirements of the BHS, ESH and AAMI:SP10

Patented Orbit ABPM Cuffs:

Form-fitting sleeve design secures accurate cuff position throughout the study, insuring consistently accurate readings

AccuWin Pro 4 Software:

Efficient programming and analysis with advanced options provide powerful flexibility, so you get every data point
Options Include:
SphygmoCor Inside:

With over 800 published studies, including validation in exercise, AtCor's SphygmoCor technology is simply the gold standard in central BP

Patented Sub-Diastolic Waveform Measurement:

Delivering a fully-featured physiological waveform with accurate augmentation index in all patients 18 and over

Bluetooth with True24:

The True24 patient diary mobile app is designed to work with the SunTech Medical Oscar 2TM Bluetooth ambulatory blood pressure monitor during a physician prescribed ABPM Study
The Oscar 2 is paired with Orbit Cuffs that currently are available in 4 sizes:
Cuff #1: 18 - 26 cm
Cuff #2: 26 - 34 cm
Cuff #3: 32 - 44 cm
Cuff #4: 42 - 55 cm
Proper cuff sizing is extremely important to SunTech Medical and they continually promote the importance of proper blood pressure measurement technique. Using the wrong size cuffs on patients can cause erroneous ABPM study results, and therefore affect a patient's hypertension diagnosis.
To learn more on proper cuff sizing or to watch a video on determining the right size cuff for patients, visit: www.suntechmed.com/bp-cuff-video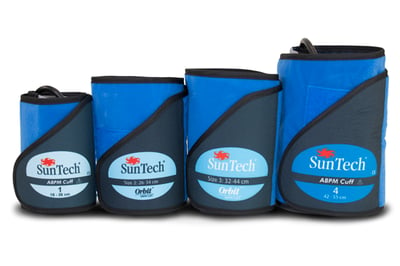 The Oscar 2 System provides all these features and more, to learn more visit: www.suntech.com/oscar-2
To order one of these products today, visit: www.surgo.com/oscar-2