Obtaining a clear view and full access to the cervix is critical in order to provide women with the high quality gynecological care they deserve. In the past, this has proven challenging, particularly in multiparous patients or those who are obese, as excessive lateral wall tissue can interfere with vaginal and/or cervical exams or biopsies conducted with a traditional vaginal speculum which provides only superior and inferior vaginal tissue retraction. Many professionals are now finding that the use of a ClearSpec disposable speculum with sheath and a built in light source not only provides an improved view of the cervix but also increases the overall speed and efficiency during every examination without sacrificing patient comfort. (http://clearspecmedical.com/disposable-speculums-with-sheath-and-a-built-in-light-source-improve-cervical-visualization/)
Standard speculums offer only single-plane (superior/inferior) tissue retraction: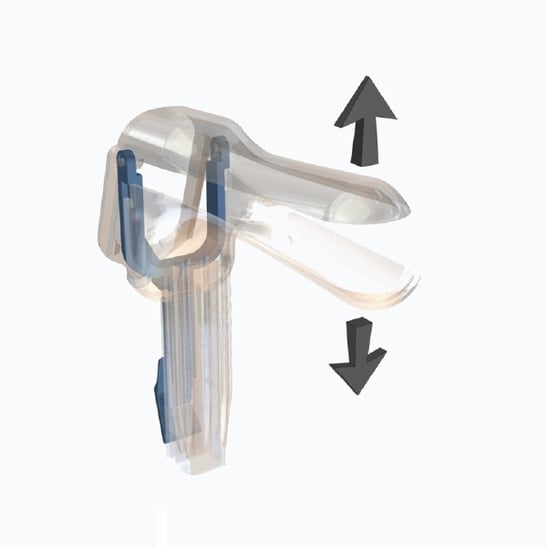 Great Thing #1
Intr

oduces Multi-Planar Tissue Retraction with the addition of a sheath specially designed for Clearspec vaginal speculum: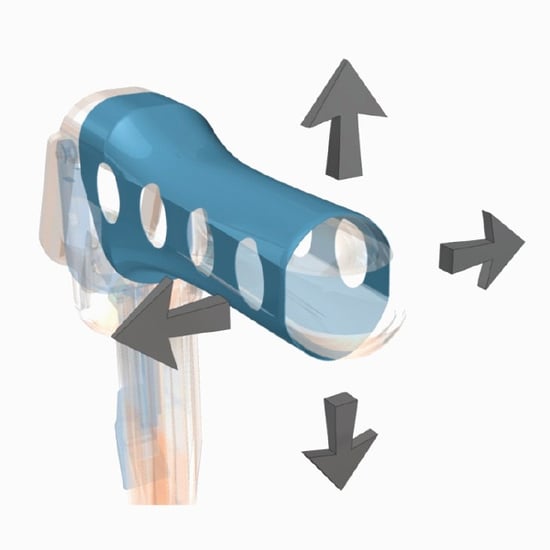 Great Thing #1 is an important ClearSpec Advantage:
Excessive lateral wall tissue can get in the way of proper vaginal exams; an increasingly common issue in multiparous and obese patients.
Cervical examination, biopsy work can be a challenge.
Causes unplanned-for exam time, slows efficiency in the clinic
Clearspec vaginal speculum sheath eliminates this problem: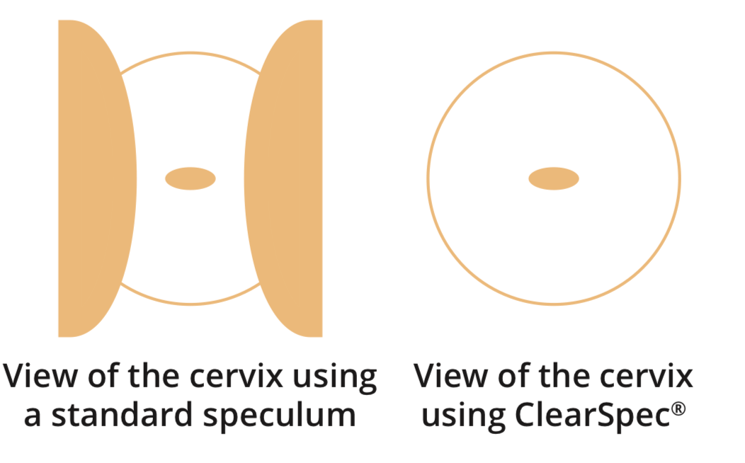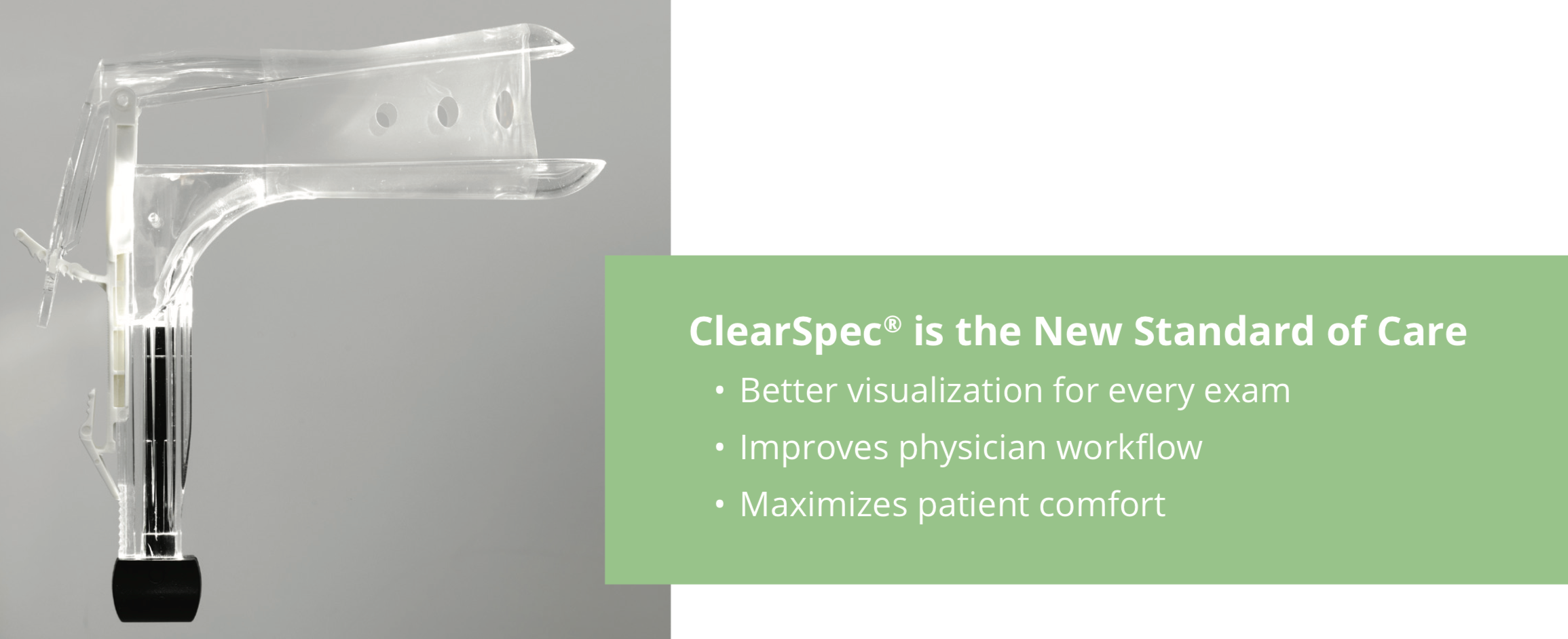 ClearSpec Advanced Speculum

ClearSpec advanced speculum design is scientifically proven by an IRB randomized clinical study to improve visualization for every exam
Advanced design provides optimum and unobstructed view of the cervix while minimizing patient discomfort
Facilitates access to cervical canal
Saves physicians time

ClearSpec Features:
Sidewall retraction
Lateral ports allow for tissue viewing and biopsy procedures
Reposable high powered LED illuminator fits into the handle of the speculum
Illuminator provides more than 2 hours of light
Graves style

ClearSpec is Essential for:
Colposcopy
Cervical Biopsy
Cryotherapy
Endometrial Biopsy and Ablation
Essure
Hsyteroscopy
Pap Smears and Cervical Culture
Pregnancy Exams
Great Thing #2
ClearSpec includes a reposable LED Illuminator with automatic on/off switch in every box.
Reposable devices are reusable and disposable. Reposable medical instruments provide the convenience of single use instruments with the cost savings of reusable. They are labeled for more than one use, but are not designed for years of wear and tear which directly reduces procedural costs.
ClearSpec reposable LED illuminator eliminates the cost of the charging unit and illuminator (approx. $395 complete set) of other brands such as the venerable Welch Allyn. 1 box of ClearSpec illuminated specula is similar or less cost than 1 box of Welch Allyn illuminated specula (both brands approx. $2.30 per speculum)
The ClearSpec LED illuminator clicks neatly and easily into the speculum handle. One illuminator is included in every box and is re-used for the entire case of specs, then disposed of after the case is finished.
No cords, no charging time, no cost of illuminator or charge unit and accessories.
And no costly mistakes when doctor inadvertently throws rechargeable illuminator out with the used speculum.
The cost to replace a thrown out Welch Allyn illuminator is in the hundreds of dollars. ClearSpec illuminator replacement cost is zero as it is FREE with each box ($65 if purchased separately for some reason).
Great Thing #2 - The LED reposable illuminator: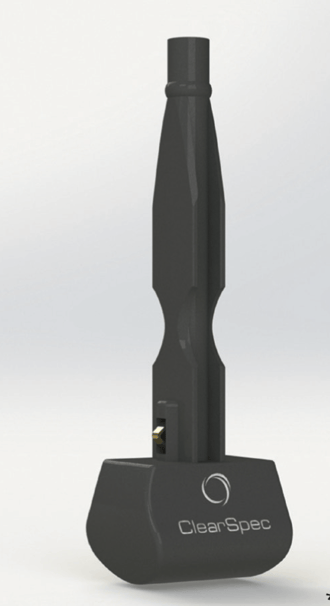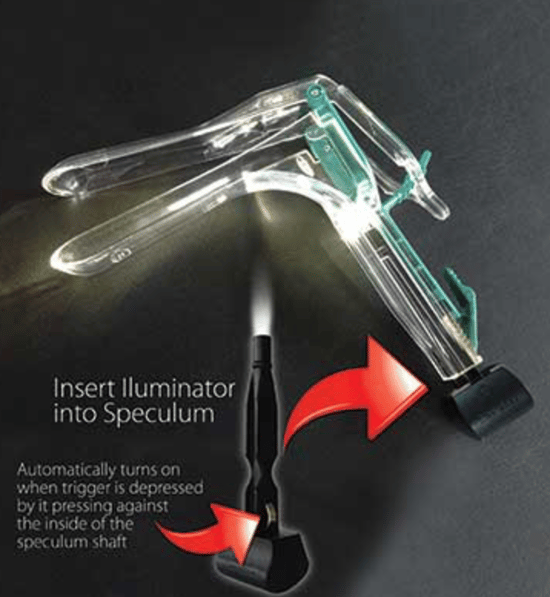 ClearSpec improves patient care while at the same time improves procedural and clinic efficiencies. These are simply Great Things.
To purchase ClearSpec today, visit www.surgo.com/ClearSpec